Sponsored:
The title of best PDF editor need not necessarily go to the biggest name in the business. While it's true that Adobe has a clear advantage because they created the PDF format itself, there are other best free pdf editor or paid editing applications for PDF files that deserve a chance at the top spot. Among these, Nitro PDF Pro 12 and PDFelement Pro 6 from Wondershare stand out as two worthy rivals to Adobe Acrobat DC Pro.
Read More relative articles: Top 7 Best Free PDF Editor for Mac
This in-depth review covers various aspects and functionalities of Wondershare PDFelement Pro version 6, and why we found it to be one of the best PDF editors for both Windows and Mac. This review is based on the Mac version, but the same elements are also seen in the Windows version. So let's get down to business.
Advantages of PDFelement Pro 6
It's always good to see what the advantages of a particular software are, up front. It gives you an overview of what the software is like, and highlights its best features. To be fair, we've followed that up with some of the disadvantages. That being said, PDFelement has a lot more going for it than against it based on our extensive testing on MacBook Pro devices. With that, here's a quick list of some of the benefits you get from this robust software utility for PDF editing.
Price: PDFelement Pro 6 is a lot more affordable compared to its equivalents from US-based Adobe and Australia-based Nitro. At $99 for a 1-year license and just $159 for a perpetual (lifetime) license, it beats the other two by a significant margin. For reference, Adobe Acrobat Pro DC, which comes with Document Cloud included, costs about $180 annually and $450 for a perpetual license ($200 when upgraded from an annual license.) Nitro Pro 12 costs about $160 for a perpetual license, and it comes with a basic version of Nitro Cloud. As you can see, PDFelement has a clear edge here.
Features: PDFelement has all the features that are typically required by PDF users, such as creating, editing, merging/splitting, converting, secure signing, watermarks, templates, page labelling and Bates numbering, OCR, form recognition, redaction, form data extraction, batch processing, scanner to PDF, PDF/A support and more. Most of the other features offered by Adobe and Nitro are a little over-the-top, which is why they cost so much more. From a price-to-value standpoint, PDFelement has a clear advantage.
UI and UX: User interface and user experience are two very important aspects of any PDF editor – or any software, for that matter. In that respect, you'll see a very smooth and clean interface in all of Wondershare's products, including PDFelement. That means an uncluttered and well-labelled interface with collapsible secondary tools, and an overall positive experience even for new users. If you've used Adobe or Nitro, you'll see that they don't qualify for this on all counts. For example, Adobe has altogether too many functions that can overwhelm a newbie user, and Nitro packs in a comparable number of features, even though the layout is arguably more streamlined than Adobe's product.
With three clear advantages to their credit, let's look at some of the downsides to using PDFelement.
Cons of Using PDFelement
Probably the only major downside to PDFelement is a lack of robust cloud integration. It might be something they're looking into, but for now it's kind of basic. You can open documents directly from Dropbox, but other than that there's nothing much. Of course, you can still use Google Drive and other cloud services to store your documents, so that helps.
Now that we've covered the top-level view, let's compare a few of the important functions.
Review of Key Functions
Editing – It's a pleasure to edit a PDF document in PDFelement Pro 6. As we mentioned, the interface is smooth, and the software is able to accurately identify various elements, such as links and email IDs. It's also very easy to manipulate image layouts and other attributes such as text alignment around images. Splitting pages was super-easy, as was reordering them to suit our requirement. Overall, the software has a comprehensive suite of editing tools to do everything you need with a PDF and its various content elements.
Creating – PDFelement was able to maintain content integrity to a very high degree, which is what we'd expect from a Pro software. This was true even with cluttered Word documents with multiple content elements such as bullet lists, images, tables and text. Interestingly, it fared better than either Adobe or Nitro in this regard, where we often found alignment issues that were pretty hard to fix unless you knew what you were doing. After all, not everyone is an expert editor, so that sort of takes away from the experience. PDFelement definitely does better than its peers on this front.
Forms – Forms are usually a nightmare for PDF editors, but PDFelement came out with flying colors in this area. It was able to extract data with a high degree of accuracy, and it was able to create nice-looking forms from non-PDF sources like Word. If you have a bunch of PDF forms, you'll find the batch extraction to CSV feature extremely useful.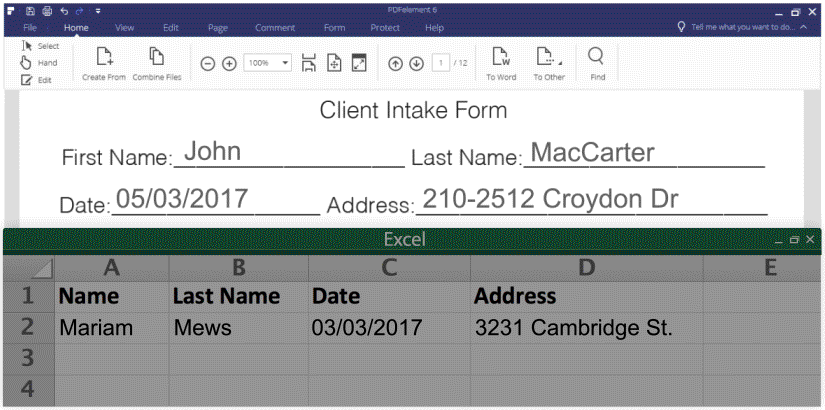 Conversion – PDFelement has the fastest batch conversion speed of the three top PDF editors in the market, and it's nearly twice as fast as the others. In addition, it offers a much wider choice of output formats that include EPUB, HWP/HWPX and HTML.
Protection and Signing – Both these are important features for business use, and we found both features to be more than satisfactory. We actually tried to break the protection and get into a secure file, but were unable to do so with the usual methods. Of course, nothing is foolproof, but this level of security is more than adequate for work-related PDFs being shared in a closed network.
OCR – The best aspect of the optical character recognition feature in PDFelement is the two modes it offers – Searchable Text and Editable Text. That means you have specific modes for your purpose, whether it's looking for information or editing the contents of a document. There is worthy to mention, The OCR support more than 25 languages.
Scanner to PDF – This is a new feature in Pro version 6, and it's very handy when you have a lot of scanned documents that also require OCR capabilities to convert them into editable or searchable PDFs. We've yet to see this level of granularity in other software unless you're willing to pay for ultra-premium features. This comes included in the Pro version of PDF element.
Final Words
Our overall impression was that PDFelement offered greater value for money than either of its competitors. For the average PDF user, even someone working with hundreds of documents on a daily basis, it is a comprehensive solution that contains just the right number of flawless features to make it attractive to any business, small or large. It's a lightweight application that only requires 512MB of RAM, as opposed to 1GB required for Adobe, which means it's more responsive on lower-specced machines. That will save you a lot of time in the long run. The PDF editor also provide a free trial, maybe you can have a try?
Disclosure: "This is a sponsored post. Geeky Gadgets has been compensated for this post.
Filed Under: Sponsored
Latest Geeky Gadgets Deals