Sponsored:
Microsoft Word is embraced by many as the standard document editing software, used across campuses and businesses alike. With a simple user interface, easy-to-use features, and compatibility with many other office products, it's not surprising that it's so widely popular. Many professionals still feel more comfortable working with Word files over PDFs, and wish that they could have the ability of editing a pdf in Word.
Business users also wish they could find out how to edit a PDF through a similar software to Word. When it comes to editing PDF, there are some programs available – the most popular of which is Adobe Acrobat, and PDF expert. However, these come with a high price and a bloated set of features that make product usability complicated for the average office worker. Also, different PDF tools often integrate content differently, leading to compatibility and formatting issues when attempting to edit office documents.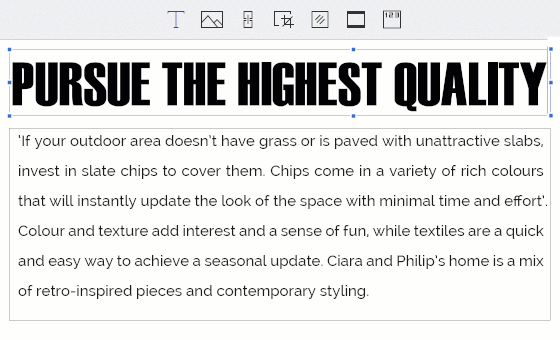 Many users ask "Can we edit pdf at a more affordable price without creating a cost burden or impacting user's productivity?" The answer is yes. A cheaper and more flexible PDF editing option is PDFelement – an enterprise-grade PDF solution that is affordable, exceptionally easy-to-use, and comes with professional tools that allow users the ability to edit PDFs like they would with a powerful word processor. Create clean and elegant documents with an easy-to-use interface, and attractive editing features that make PDFelement a powerful choice to prepare or to re-work PDF files:
Turn paper documents into easily editable digital files
Turn any paper document into an instantly editable PDF file with fonts that look just like the original. PDFelement's editor recognizes PDF text with close to perfect accuracy, eliminating time spent fixing font and formatting issues. In the video below, we take a hands-on look at how to edit pdf files.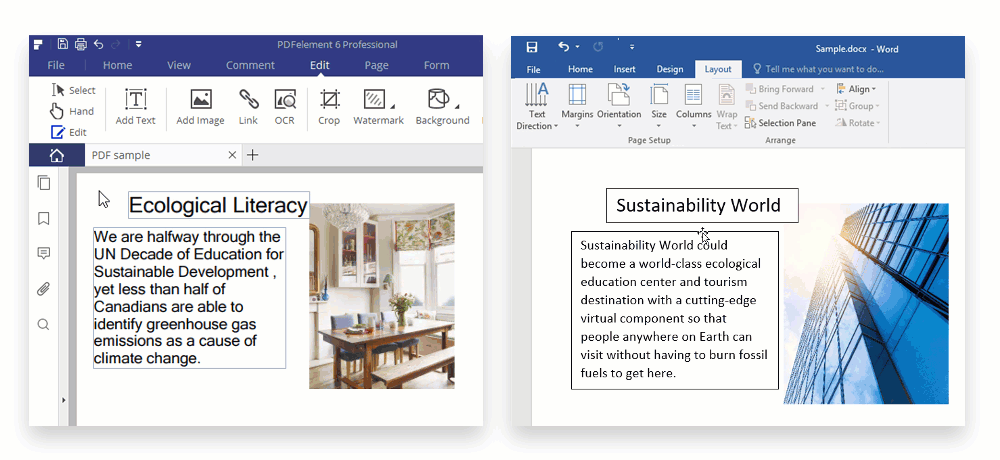 Stop re-typing and move documents forward
Don't spend time searching for original files or re-creating them from scratch. When you need to make edits to existing PDFs, quickly transform them with simple editing tools like stamps, watermarks, bates numbering, and more.
Intelligent Paragraph Recognition
Change or add content as you wish without ruining the original page layout. With Line Mode and intelligent paragraph recognition technology, when you add new text to a paragraph or a new item to a bulleted list, existing paragraphs and formatting will adjust automatically as well.
Convert PDFs to Office formats
Effortlessly turn your PDF into almost any type of Microsoft Office document including Word, Excel, PowerPoint, and more, while saving fonts, formatting, and so much time.
Edit Scanned PDFs
Transform a scanned, image-based PDF document into editable text – while retaining the document's format and layout. Top-of-the-line OCR technology (Optical Character Recognition) turns it into a fully editable document, allowing you to search, edit, insert, and delete text, change text formatting, or re-size and remove images. You can perform OCR on individual documents, or use batch OCR to edit multiple scanned files across 29 different languages.
Create and Fill Forms
Easily create fillable PDF forms: PDFelement's powerful new form recognition capabilities turn any non-fillable form made in Word, Excel or other office applications into a fillable, editable PDF with just one click. Also, our brand new intelligent form automation extracts PDF form data from hundreds of identical forms into a single, accessible Excel sheet within seconds. These functionalities play a vital role across the organization, from preserving legal content or facilitating the exchange of marketing content within sales organizations, to using PDF forms to efficiently capture customer or internal corporate data. They also serve as a workflow medium throughout the organization.
Get a smarter, faster editing experience that is just like Microsoft Word. Plus, discover why companies are using PDFelement over other PDF editing alternatives –
Standardization across Windows and Mac – enjoy widespread user adoption by standardizing PDF capabilities on both Windows and Mac.
Affordable solution, many uses – use powerful tools to edit, convert, review, protect, sign, and compare PDFs at a fraction of the price of Adobe Acrobat.
Easy licensing & deployment – experience freedom with perpetual licensing and save time on licensing management, deployments, updates, and upgrades.
We've got your back – experience a seamless product transition through 1:1 sessions with product experts, 24×6 customer support, online tutorials, and a thriving technical community.
Leave the struggles of editing PDFs behind. PDFelement provides 2 different versions (6 and 6 Pro) for you to choose from. If you need OCR – the ability to convert scanned text documents into editable text, try out PDFelement 6 Pro free, or for a limited time, get 40% off your copy of PDFelement 6 standard with the promo code "geeky-gadgets".
Disclosure: "This is a sponsored post. Geeky Gadgets has been compensated for this post.
Filed Under: Sponsored

Latest Geeky Gadgets Deals
Disclosure:
Some of our articles include affiliate links. If you buy something through one of these links, Geeky Gadgets may earn an affiliate commission. Learn about our
Disclosure Policy
.